Artisan Bagpipe Makers Based in the Heart of Edinburgh
Artisan bagpipes means keeping the bagpipes hand-made and traditional.  We know our bagpipes are of the highest quality and are tested, set-up and played to ensure the bagpipes that leave our workshop are of the highest quality.  We also design and tailor the bagpipes to suit your desired style and decoration, so you get a truly unique and valued instrument.
Click to see more!
Bagpipe Servicing!
As well as having our own range of bagpipes and accessories we also offer a servicing service.
It could be as simple as dropping off the pipes to be hemped up or dropping them off for the full works such as new bag, cords, bag cover, drone reeds, chanter reeds and get them going!
You might also be interested in a bagpipe refurb! Images and more information on this can be found under Repair, Replacement and Refurbishment. We offer lots of options that you can choose from!
We can also replicate and replace broken/cracked sections that are needing to be replaced!

Each bagpipe service is individually priced based on the work asked to be done by the customer.
Contact Us
Our Engraving Designs!!
Check out our hand engraved stunning engraving designs. A
Available in nickel and brass!
shiny designs this way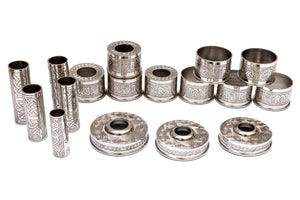 Learn to play bagpipes!
If you love bagpipes and are keen to learn, this is the perfect section for you. This section will supply you will all the necessary information on what you need to get started to play the bagpipes!

Kilberry practice chanter, Kilberry learners book & CD and you're set to learn the bagpipes!
Click here to get started
PIPING LESSONS AVAILABLE FROM OUR GRADE ONE TEAM!
An opportunity to learn from a grade one piper who plays with St. Laurence O'Toole Pipe Band, currently 6th in the world!
Lessons are available Monday to Friday.
Call 0131 556 9607 to book a lesson or come into our shop find out more information!
FIND OUT MORE
Quality Repair, Replacement and Refurbishment Services Since 1990
Do you want to upgrade/refresh or change the look of your pipes? We can offer new mounts in aged or new style imitation ivory, engraved/plain nickel or silver.  We can also replace broken and split drone sections, stocks and blowpipes to help achieve your pipes best sound.  If you have an idea of how you would like your pipes to look.  Contact us to discuss possibilities and pricing.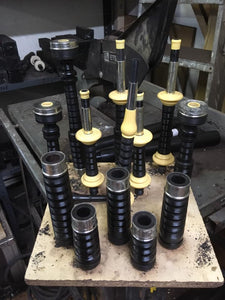 More from Kilberry...
An excellent collection of pipe tunes from composer and piper John Drew forwarded by Stuart Liddell. John, who originally hails from Perthshire, is currently living in Glasgow. He graduated with...